Don't want to start out too critical of what very well might be legitimate efforts to understand the brain and how people make decisions, but The Brains Behind Behavioral Science article from a mag called Behavioral Scientist seems to offer observations about as profound as Lu Yan's comments to Jason Tripidikas in Forbidden Kingdom referenced above, but without the intention of making a joke. For example:
Crucially, by predicting—instead of passively registering—our environment, predictive coding allows our brain to conserve cognitive resources and guide our perception and action in a fast and efficient way. But this also means that what our brain notices and attends to is heavily determined by what we already know.
Ooooh-kay. In English: we tend to look for and notice familiar things in familiar environments. Since that would be what makes a familiar environment familiar, I'm not sure we got anywhere here.
The major contention, OK as a basis of scientific exploration as long as accompanied by awareness of the limits of such a view, is that the mind (human behavior standing in, in this case) is the way it is because the brain is the way it is. As a working hypothesis, such a notion might allow something to be discovered about the relationship of thought and volition to the physical state and capacities of the brain. Not bloody likely, but maybe. Such a view does not allow one to pass metaphysical go, nor collect 200 Kantian thalers, real or otherwise.
The essay continues:
From this perspective, it is easy to see how predictive coding explains our tendency to spot confirming evidence more readily than disconfirming evidence. And because most of these predictions are performed unconsciously, we are unaware of how our prior beliefs blend with new information from the real world. When it comes to explaining cognitive quirks like the confirmation bias, the brain is basically an engine of prediction.
That word – easy – I don't think it means what you think it means. Also, the mind and perhaps the brain boggles at the notion of demonstrating the brain's nature as a predictive engine. Basically, thoughts as an expression of brain activity is a tricky concept, to say the least. That materialists want it to be so doesn't make it any less tricky.
By using neuroscience to prune behavioral concepts to relevant brain substrates (! – ed.), we can rationalize the zoo of biases. The outcome would be a simpler framework, with a map of behaviors observed in different situations linked to core cognitive functions. Such simplification has already begun and could both help communication among behavioral scientists and lead fundamental and applied research in new directions.
Our suspicions are confirmed. "Rationalize a zoo of biases." Hmmm. Note that the writer is a behavioral scientist (whatever that might be) expressing her hope that the "zoo" – the diverse, animated collection of biases that seems to be her subject matter – can be rationalized, by which she clearly means organized in a more understandable way, by use of simple principles to be discovered through neuroscience. Note that this hope is expressed as a simple fact: "we can rationalize…" not as the more sane and scientific "we just might maybe be able to rationalize…" Nope, by applying the same sort of neuroscience by which we have gained rich insight into the inner spiritual life of dead salmon, we will – not may, not might – we WILL "prune behavioral concepts to relevant brain substrates."
She gives this example:
For instance, by studying the way brains change as we age, neuroscientists can help address one of the major challenges for the next generation of behavioral scientists: how to target behavioral interventions for the vastly different brains of people of different ages, cultures, and socioeconomic levels.
Apart from the mere woolly incoherence of the above quotation, I for one would really not want the sort of thinker who could emit such a thought doing any sort of "behavioral interventions" on me under any circumstances.
It gets worse:
To assess differences among individuals, one objective alternative is "neural indexes." Neural indexes are brain signatures of specific behaviors. Modern neuroscience has demonstrated that we can now use neural indexes to spot behavioral biases in different populations. Many cognitive biases (like risk aversion, the endowment effect, or framing effects) have already been reduced to specific brain structures or networks, enabling neuroscientists to expand the samples to people of different ages.
Aaaaand – the reference is a link to yet another fMRI study. TL;DR much past the pretty pictures. I will give them this: in the opening paragraphs I did read, the researchers use the word 'suggests' to describe certain much-to-be-hoped-for conclusions. Very consistent with proper scientific restraint in the face of the massive, hulking, shadow-casting unknowns that haunt the scientific mind (even one as modest as mine) when contemplating what is being claimed.  Contrast this with the casual confidence mentioned above. I merely note that unless some breakthrough has happened in the last 2 years that I've completely missed – unlikely – fMRI studies make phrenology look hard-science-y by comparison. Dead salmon, and all.
So perhaps some restraint would be in order, a little shadow of doubt?
Moving on, saw this on Twitter, I think. It seemed appropo: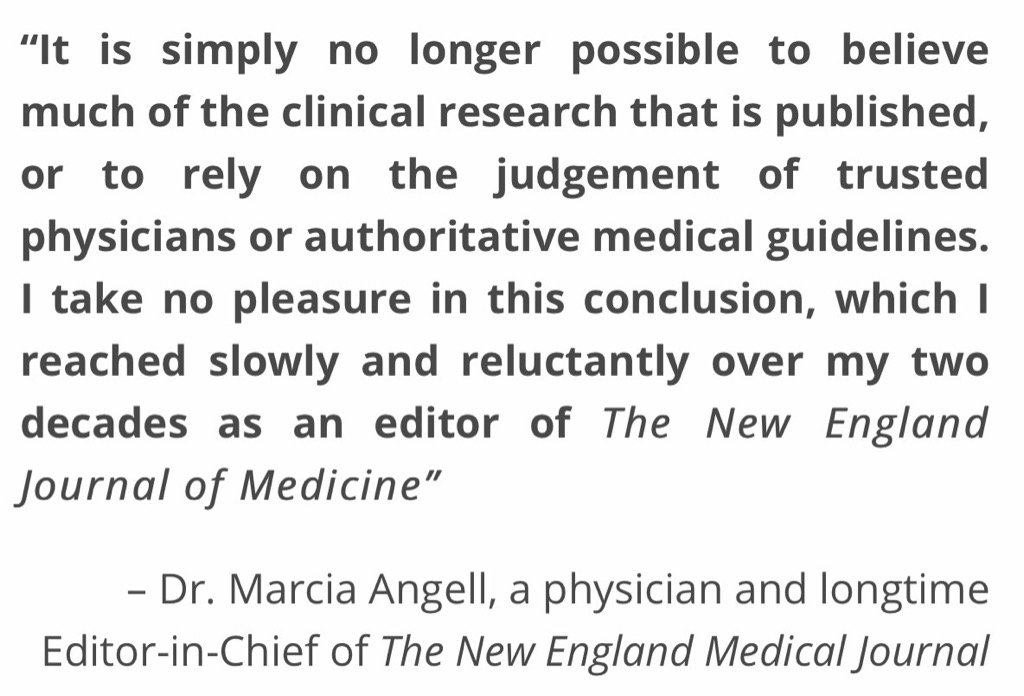 Yet, here's another Twitter grab (I must figure out how one embeds these things!)
See here for my basic take on the often desperate looking attempts to distract people from the ongoing fraud that is sociological and psychological 'research' – poorly defined questions researched via dubious protocols and never replicated are published as 'studies' – that then, as the writer above notes, become the basis of public policy and popular culture.
(This reminds me – there's a blog draft in the folder where I trace a particularly egregious example of 'nothing to see here, citizens, move along' through its permutations over time, where a study that had very publicly been used to beat conservatives was shown to actually have found the exact opposite conclusion – and so now needed to be poo-pooed into dissipating vapors. Need to finish that one…)
Now on to cheerier news:
Here is updated the story of honeybee hive collapse, a cautionary tale about needing to understand the problem before panicking and formulating drastic solution. This is perhaps a good one to point out for my own sake, since I failed to think it through myself, and thus missed the obvious point: honeybees are livestock, animals domesticated, bred and cared for by people. 'Wild' honeybees, such as the hive we used to have in our front yard, are really feral – their ancestors escaped at some point from domesticated hives first brought over by English settlers 3 or 4 centuries ago.
Thus, the solution to hive collapse is not to be found, generally, in improving the natural environment, but in improving the applicable animal husbandry. And so it has happened: if hive collapse is reducing honeybee populations by up to 40%, then apiarists are going to breed more of them to make for it – because bees are raised to pollinate crops and produce honey.  As a bee farmer, I'm going to do what I can to have the right numbers of bees available for my business.
So we can pretty much stop panicking over hive collapse. Keep an eye on it, just don't panic.
Finally, here's a cool picture related to a recent blog post here: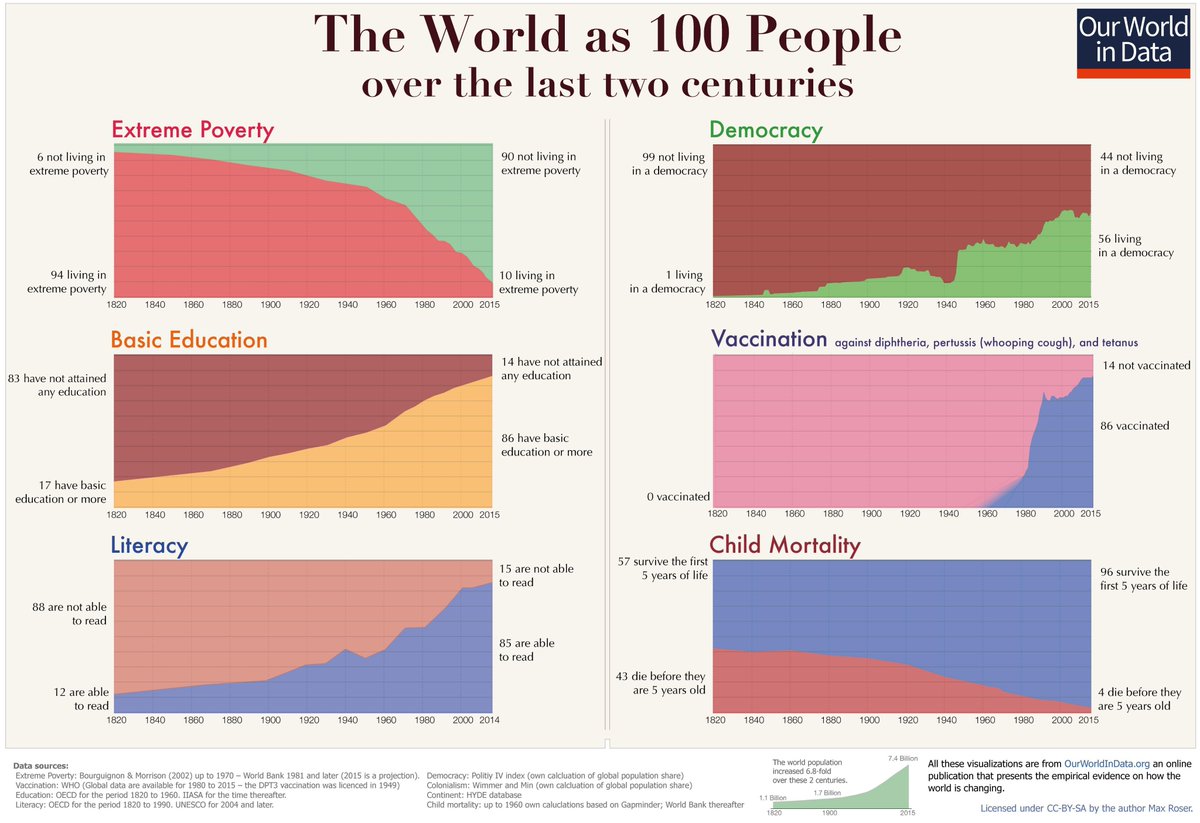 While evil never sleeps, and there's plenty wrong with the world, it serves no positive purpose to ignore real gains in the material basis for general human happiness. Real, concrete problems correctly understood can call forth real, concrete solutions that actually solve something – this chart is, I think, a monument to just such thinking. But focused problem-solving won't bring the revolution any closer, and just might cause it to be postponed indefinitely – so it must be avoided and ridiculed at every step in the eyes of certain interests.