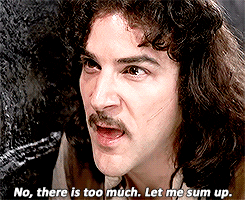 Life is good. Having breakfast (Huevos Rancheros with both red and green New Mexico chile sauces – the only way to fly) with our kids and their grandmother on a cold, crisp Sunday morning after attending a lovely Mass together – what more is there to life in this world? I am indeed blessed.
Elder daughter is off being courted at the moment. Nice young man. Elder son is studying. He had a meeting yesterday with his thesis advisor – at our home! Seems he and his wife were up in the area to visit a brand-new grandchild, and so came over to visit. Charming an intelligent conversation ensued.
Younger daughter is having that experience I've warned them about: the reward for competence is getting more work. We are for the most part a competent family, and end up organizing, executing and cleaning up after a lot of things. It's worth it, but can get exasperating at times. Beats the alternative. She (both daughters, actually) is an excellent seamstress. A young lady who teaches at our school and has been staying with us for the last 2 years is getting married, and younger daughter volunteered to make her wedding dress. She loves doing this sort of thing, but it's a big job.
Wedding dresses tend strongly toward the 'more involved' end of the dressmaking spectrum. So, this being our daughter's only real break between now and the wedding, as she will be writing her senior thesis during the 2nd semester of her senior year, she is trying to get it done this week. So, since she should be doing her seminar readings now, my beloved wife is reading aloud to her while she sews.
Younger son, the Caboose, is indulging in some video games. I need to take him Christmas shopping, since he's the only one who can't drive himself and we will be having our gift-giving on January 1. We had it on Epiphany for many years, but recently the kids have been drawn away to jobs and school, so we tend to have it on the last day everybody is here – New Years Day this year.
On Thursday, we met up with a young family visiting San Francisco. College friends of elder daughter. After lunch, we had only a couple hours to show them around, and chose the Conservatory of Flowers in Golden Gate Park. This is a 140 year old large wooden greenhouse stocked with rare tropical plants and flowers, the oldest public collection of its kind in America. They have dozens of different carnivorous plants, including some pitcher plants whose traps could hold a good size bird or rat. Funky looking.
I took a few pictures. They aren't very good. If you want to see good pictures of flowers, check out Zoopraxiscope.
2018 was an interesting year:
Our middle two kids completed the first half of their senior years at Thomas Aquinas and Thomas More. Have two graduation to look forward to in 2019 – on opposite coasts one week apart. Of course. I'm a happy daddy.
Singing in a Sunday choir for the first time in over a decade. The relentless poor quality of the music and the lack of any aspirations to sing anything better drove me off. But a friend got a twice a month job doing the Saturday anticipatory mass, and she's doing chant and Watershed stuff, so I'm now in. Didn't realize how much I missed it.
Youngest son progresses with violin. He can fiddle up a storm. He also decided on his own to join Boy Scouts. The particular group he joined seems good, and has not yet completely fallen to PC nonsense. He needs 3-4 years to make Eagle, so if the troop can hold out that long… He loves the outdoor activities and getting to hang with some relatively sane kids his own age.
Home Improvement projects proceeded at a crawl. Got a few thousand more bricks to lay out front, and some wrought iron-style fencing and some rails and steps to put in. Did make the carcass for a king-size bed platform out of oak veneer plywood. Unfortunately, had to press it into service before I had time (and decent weather – have to work on projects this large outside) to finish it. Therefore added another threshold to overcome before finishing it: taking it back out of the bedroom. In my mind's eye it's very nice, sort of reminiscent of Mission style. As it is, it's a big plywood box.
Didn't read nearly as many books this year as the last couple. Plan to remedy that.
Did get almost done (what is with me and getting near the end of books and not finishing? I've not always been this way…) with Polanyi – what a load! – and a couple education books (dreary for the most part). Did read – and even finished! – a half dozen SciFi books this year. But, man, gotta pick up the pace. I spend an unproductive amount of time reading materials on the internet. Some are critical, such as source materials on education. Others – not so much. Must remedy this as well.
Continuing with an hour or two of piano just about every day. Got Beethoven's Sonata Pathetique to the point where I can hack my way through it. Only took me about 12 months. Now, if I'd just put in another 6 months, I might get it to the point where I'd not be embarrassed to play it for somebody. Also worked up some rag time and a couple fugues from the Well Tempered Clavier. Tried a little Chopin, but – looks like a lot of work. So, maybe. Or maybe some more Beethoven or some Shubert. It's fun
Over the last 6 months, made a miserable effort to get disciplined about writing. I could blame a series of minor injuries/illnesses, and there would be some truth to it, but many people have written through as bad or worse, so – no escaping it. I tried and failed.
On the other hand, did finish at least rough drafts of 3 stories, wrote several thousand words on the Eternal Novel of Infinite Enertia, and did a ton of blogging. There is that. But it's not enough, not by a mile.
Lost my job June 30. I'm 60, 4-5 more years and I could have retired. Now? Got to come up with some way to get us through the next decade financially. No call for sympathy here, we're doing way better that most people, it's just I thought I had it licked, and – not so much.
Medically interesting year, which one does not want. Gone are the decades during which I never missed work and rarely had so much as a cold. Again, nothing worthy of sympathy – I'm just getting old and paying the price of letting myself go. I suspect regular exercise, eating like I'm sitting around all day instead of like I'm heading out to plow the south forty, and the related loss of, oh, 100 lbs, and I'd be a lot better off.
All in all, life is good. Good marriage, family I'm very happy to be a part of, no more than the usual amount of issues and problems. Can't complain.
For 2019: We'll see about writing some more. I could use a spiritual director. A job or some other income would be very good. Some discipline around food and exercise is required (hmmm – this sounds strangely familiar…) Reengaging a systematic prayer life would no doubt help. Pray, hope, and don't worry, as St. Padre Pio put it. Yea, like that's gonna happen. But nothing is impossible with God.
We wrap up 2018 tomorrow by finding an Adoration chapel to spend the last moments of the old year and the first of the new, then Mass, presents, breakfast and teary goodbyes to the older 2 kids. *sniff*.
Then we run it back for 2019! Interesting times. Good, but interesting.