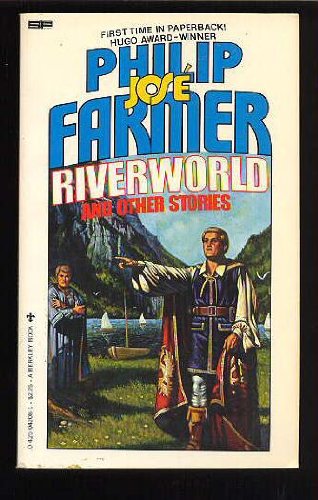 While I suspect that John C. Wright, in his list of essential Sci Fi reading, meant to include one or more of the 5 Philip Jose Farmer novels set in Riverworld, what the list actually says is 'Riverworld' which is a short story set in that universe. So I read and will review the +/- 80 page story here.
Riverworld is one of the great feats of imagination and speculation in all of sci fi. Farmer envisions a world that consists of millions of miles long river valley boxed in by impassible high mountains on either side, so that one must travel along the river and valley to get anywhere. On this world have been reincarnated the 36 billion or so people of earth – everyone who has ever lived past the age of 5. Most people are reincarnated among others of their time and place, but some appear more or less at random among strangers.
Why? By Whom? No one knows. When one awakens in Riverworld, he finds a grail – a container – that, when placed atop certain large mushroom shaped stones at the times for breakfast, lunch and dinner, will be filled with food, drink (including alcohol), smokes and other essential and luxury items. If you miss a mealtime, you might have to live off the river fish, which, besides some large worms, seem to be the only animal life on the planet.
Further, everyone is reincarnated as they were at age 25, and healed of all deformities and flaws. Except for those who died younger, who age up until age 25 and stop, no one ages on Riverworld. There is no disease. Further, if you die on Riverworld, you are reincarnated the next day at some other point along the river. While sex is a common pastime, all the people are infertile.
We find all this out over the course of the story of the movie star Tom Mix, who we meet fleeing down the river in a catamaran with two Jews, Yeshua, from around year 0 A.D., and Bithniah, a woman from the time of Moses. Seems they had fallen into the hands of the tyrannically puritanical Kramer, "the Hammer," who tortured and killed any 'heretics' and witches that fell into his clutches.
Kramer doesn't take kindly to people escaping. He has sent his men after them. Mix executes a daring strategy and manages to sink the pursuing craft – despite Yeshua refusing to help, as he has vowed to never kill or help kill another human. The three fall in with John Wickel Stafford, a 15th century English noble, in his settlement of New Albion. Stafford and his people are much more tolerant than Kramer – they realize that this whole Riverworld thing has seriously upset their assumptions about this life and the next. The Hollywood actor and two ancient Jews are welcomed.
Everyone fears Kramer, who has conquered and subjugated and purged his way along the neighboring stretches of river. Mix and Stafford decide they must do something, and plan a daring attack.
All this action – and it's good – provide an opportunity for Farmer to explore a wide range of philosophical, theological and moral issues. In a world full of healthy 25 year olds and free of disease and pregnancy, sex seem to be a universal pastime. Yet jealousy, envy and lust are not eliminated, and so neither is violence. As people come to grips with the reality of Riverworld, many lose interest in what had been their passions back on earth – religion and traditional enemies get reexamined. But others, most notably Kramer, double down on their fanaticism.
Any more and I'll give the story away. Highly recommended.