Since I have it on good authority that I should be made to live up to my own rules in order that the Glorious Worker's Revolution can take place, I got some reading to do. If I have one rule about reading/research, it's go to the source first. Then, once you've taken a respectable crack at understanding what writers have to say for themselves, read commentaries and summaries if necessary or desirable.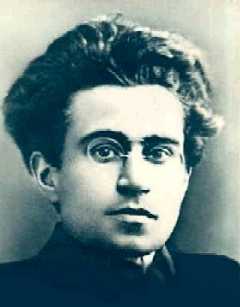 Thus, recognizing that I've never seriously read anything but summaries and excerpts from Gramsci and Alinsky, I cruised the ever-helpful if hegemonically managed internets, and downloaded some – stuff. Knuckle up. 
Also skimmed some Gramsci online. Based on a few of his many journalistic articles I looked over, my enthusiasm for the task of working through his prose is well contained. Starting with Kant, who in his defense can be said to be merely an innocent victim of the lack of writing talent (maybe), subsequent philosophers have discovered the value in being as verbose and obscure as possible. This puts the writer in the position of always being able to accuse critics of not understanding him, and allows him to stand figuratively with Newton and Einstein – geniuses whose thoughts are legitimately hard for almost everyone to understand. Newton and Einstein are hard to understand, see, yet have proven foundational to scientific understanding – just like me and philosophy! Woohoo!
That it's perfectly possible, in fact more likely, that hard to understand writing is the product of muddled thinking and bad ideas, is a notion not allowed standing. Nope, when I say stuff like "Dasein's experiential-bodying-forth as being-in-the-world with-Others" I'm showing, not an inability to use English or, more fundamentally, to think my way out of wet paper bag, (1) but that I'm *deep*. Right. 
Gramsci, based on the slight fairly random sample of his newspaper editorials I just read, can in fact form perfectly straight-forward sentences and even string a few together. (2) This is not nothing, far from it, and I am grateful. However, he will then turn around and write: \
Understanding and knowing how to accurately assess one's enemy, means possessing a necessary condition for victory. Understanding and knowing how to assess one's own forces, and their position on the battlefield, means possessing another very important condition for victory.
You mean, maybe, "To win, you must know your enemy and know yourself, and where you stand." That whole "possessing necessary conditions" is the tag that says "I've read Marx! And Hegel!" but otherwise adds nothing, or, since I've read them, too, can be said to be empty of concrete reality. But, as I've mentioned elsewhere, I am much more enlightened than Gramsci. He is so unenlightened that he fails to see his stage of enlightenment as merely a stagnant backwater, a stage long subsumed and suspended in a synthesis itself long subsumed. History, to continue to speak a language he would find familiar, has unfolded yet further stages of enlightenment far past his, until, finally, it unfolded me! 
It's how the rules of wokeness work: the less woke simply cannot understand the more woke. Until you get woke, the mechanics of which make the mysteries of human participation in redemptive grace seem trivial, you Just Don't Get It. Therefore, my standing as a World Historic Individual (to continue to use language familiar to the tragically less woke) will simply be invisible and incomprehensible to poor Gramsci and his ilk. Just the way it is.    
Moving along: as evidenced by the increase in blog post frequency, I'm feeling better these days. I'm now antsy to finish the shameful backlog of half-read books I've started and petered out on over the last, well, year or two? So a book-review-alanche may be in the offing. 
The list includes, among many others: 
School of Darkness, Bella Dodd
The Great Transformation, Polanyi (almost done, darn it!)
Parish Schools, Timothy Walsh (actually a reread of sorts. But I never really reviewed the book as a whole.)
That goofy book on r/K selection theory (actually finished, but did not review)
The Man Who Was Thursday (only have about 70 pages to go! Why did I stop?) 
Philosophy of Spirit, Hegel (reread. Stalled out after the Preface 2 years ago. Sheesh.)
And so on and so forth. 
And then I've got to find a job or otherwise figure out how to get to a financial place where we can retire. Suggested to the wife this morning that we simply move to Costa Rica. We could live like minor nobility down there! The picture look good, and they have internet!  And we'd be a 1,000+ miles from all our friends and family! 
Right. So look for a job it is. Plus – I'm not even brave enough to face this yet – there's this small boatload of stories and 15,000 words of a novel and that book on the history of Catholic education I'm pretending to write by reading other books and creating mountains of notes… Soon, and very soon? 
It dawns on me – I'm slow, sometimes – that I've used this expression a couple times without explanation, which may not be fair. If it's clear, pardon my pedantry, if not: It's a play on a possibly obscure boxing insult: "He couldn't punch his way out of a wet paper bag." I've loved this since I first heard it, because it captures the failure of a presumed expert to execute that upon which their expertise is predicated. A boxer who can't punch even through damp paper isn't even a boxer. Thus so-called intellectuals who can't think their way out of a wet paper bag. Well, it amuses me.
Or maybe his translator. The translators of Hegel, for example, have been accused on occasion of reading more coherence into the text than is actually there.  But I think not in this case.