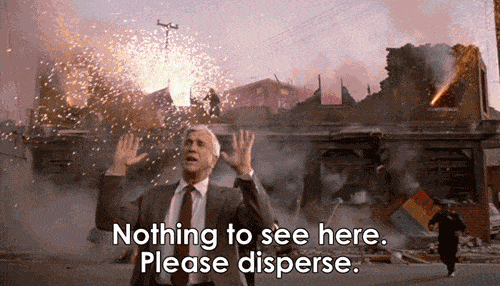 The esteemable William Briggs comments on a teacher who was fired for failing to use male pronouns to address a girl whose parents had decided she was a boy.  Many parents protested, and the principal involved said she could appreciate their feelings, but that the offending teacher would remain fired. 
Dr. Briggs, who himself, despite sterling credentials and years of experience, is no longer employed as a professor due to his failure to comply, points out that this is just one incident among many. The few remaining teachers and academics at all levels who see through the nonsense have learned to keep their heads down and pay lip service to gender theory and, by extension, all critical theory, which is explicitly the weaponized academic aspect of Marxism. If they want to keep their jobs, that is.
We are at a very interesting juncture in history, in exactly that sense in which we pray God to spare us from interesting times. Two forces are arrayed in diametric and mortal conflict: the force of those sharing a largely inchoate love for simple, personal things: family, friends, the quiet enjoyment of what can most rightly be called theirs, versus the force of destruction, a force that above all hates those things.
In both parties, a large number, perhaps even a huge majority, are not yet aware of, let alone completely clear on, what they believe, what is at stake and how the battle will be fought and won. Thus, those whose actions and statements support destruction scoff at this characterisation. I, too, they may well say, have friends and family I love. In fact, I'm saving the planet for them, saving the government for them. For them, I want every person on the planet to be free to come to America without any hindrance or judgement of their motives – because these things are essential to any world my family and friends want to live in, or would want to live in were they more enlightened.
Similarly, I suppose the major characteristic of the vast majority of people opposed to these positions is annoyance. What is with all this wild stuff that keeps coming down? I mean, geez, sure, let women have access to all the professions and opportunities men have, leave gay people alone, protect blacks and immigrants against poor treatment, and so on – but doesn't this train ever stop? Do we really need to pretend boys are girls and visa versa? Do we really have to pretend that two guys are as much a married couple as any married mom and dad? Do women really not have to put up any evidence or proof to destroy a man's life with accusations of rape or even accusations he was a cad once? Where does it stop?
This vagueness plays strongly into the hands of the forces of destruction. Where a focused, strong response is required, a tepid sense of annoyance is all that's offered. Thus, the schools will burn. They should burn, but through having all public funding removed yesterday, K through PhD. and all compulsory education laws revoked. You think you're going to get the indoctrination stopped any other way? You think people addicted to lying are going to respond to persuasion? Polite pressure?
No. Two things would happen if all state and federal funding and compulsion were removed from education. The make-work aspect would end. People would figure out alternatives, like people did for centuries before Fichte. If the schools were burned down in this manner – and I'm not real hopeful here – the teachers who can really teach anything people might actually want their kids to learn will end up with teaching jobs. High-end Vo-Tech like law and business degrees will find a level the market will support, and some people will make a living teaching those things. And all the more traditional jobs training, from welding school to beauticians, will employ teachers as they have done. Those unable to find work weren't really providing any value before.
But what about those kids whose parents won't force them to get educated? We'd fail them! We'd leave them behind!
Guess what? We're failing them now. They are left behind now. Even with the billions spent on education, even with the full power of the state's enforcement arm behind forcing kids into schools, a huge (and consistently understated) percentage, well over 50%, of kids in 'underperforming' schools drop out anyway. Got that? The full strength of the law and billions of dollars, and huge numbers of kids fail under the terms set by schools themselves!
The people who support compulsory state run schools and the gamut of state 'free' services do not really desire the supposed outcomes of these programs. Stop and consider this again: the people in favor of compulsory state benefit programs do not in fact desire the outcomes promised by those programs. That's not what attracts them and fires their enthusiasm. They lie to themselves, or let others lie to them. The tell-tale signs: these are the people undeterred by repeated failures (how's that war on poverty coming? Any day now, right?). Further, these are the people who will brook no discussion of how things are supposed to work when they get their way. As Alinsky puts it:
RULE 12: The price of a successful attack is a constructive alternative. Avoid being trapped by an opponent or an interviewer who says, "Okay, what would you do?"



In other words, do not allow the lack of a constructive alternative to derail your attack. The attack is the important thing. Committed progressives will not name that toward which we are assumed to be progressing in any but vague, ultimately meaningless phrases. Fairness. Equality. Democracy. When pressed, they retreat into some variety of ad hominem. What are you, some sort of nut who doesn't want equality and fairness? Are you opposed to the will of the people?
Recall, for an example still fresh in many minds: Obamacare. Critics pointed out two critical and obvious flaws: That there were no mechanisms in the law to control costs in a meaningful way, and that layering on new requirements effectively destroys many existing plans. The first objection means that, under Obamacare, healthcare costs should be expected to continue to rise, most likely faster (after a brief pause for digestion) than they would have otherwise, as a massive new set of rules and the bureaucracy to enforce them must also be paid for. If you extensively redefine what is an acceptable healthcare plan, it's only because you don't like the way current healthcare plans are set up. It's only because you *want* to make those old plans illegal. You want to make them go away.
So, we got two bald-faced lies: first, that Obamacare would make healthcare cheaper in the long run, and second, that if you like your health plan, you can keep your health plan.
The important point is not that these statements have proven to be lies, and were known to be lies when they were uttered. It's not even that some people may have believed them. It's that proponents of the bill didn't care in the slightest. In their minds, the details of how it was supposed to work, and even the little detail of if it could work at all, just didn't matter. They were not looking for a concrete mechanism to improve healthcare. They were looking for the Promised Land. They were voting to hasten the coming of the holy millennium of peace and justice. It was the abstract idea embodied the the bill's *title* that carried the weight, that embodied all hopes and desires: Affordable Health Care. Pointing out the problems with the mechanisms enacted by the actual legislation merely marks one for future culling.
This is the pattern. How many times do we hear that Socialism has not failed, it just have never been tried. This is only true if one assumes there are options to the leaders who have already tried to put it into practice, people not at all like the power-crazed amoral zealots (and those are the better class of socialist!) who are all we've ever seen, for mysterious reasons. No, all socialism needs to succeed is a limitless supply of genius saintly bureaucrats, incorruptible politicians and the deaths of the millions who dare oppose or criticize it (or can be plausibly imagined to possible criticize it in the future, or who are simply in the way). With the exception of Antifa level crazies, socialists are a little hazy on that last requirement. But killing millions is a requirement. In fact, it's a major attraction.
The striking thing, one that has impressed itself on me more and more recently, is that supporters of utopian fantasy – communists, socialists, progressives, along with anarchists and self-identified liberals – are simply not interested in real-world outcomes. No amount of failure will ever impress them. (1) Insisting on pointing out the failures, or, worse, pointing out how based on everything we know that a particular course of action, say, Obamacare, is doomed, merely labels us as reactionary fuddy-duddies, stupid (that one always cracks me up!) and, in any event, one to be reeducated or worse once power has been seized people vote in the right leaders.
So, we burn the schools, or they do. What they will do, following Freire, is dispense with the fiction that the schools are anything else beside indoctrination centers and reeducation camps, after, of course, burning down all alternatives. The hatred the left evinces toward homeschoolers and, indeed, anyone who chooses any other way than public schooling is truly frightening. Or do you think the Bern supports college for everyone out of the (what would be the incredibly stupid, even for him) belief that college education creates good jobs for every grad? I'd bet a lot, without even checking, that, in addition to his popularity among college kids, his support among teachers unions and 'educators' was very, very high. In fact, the former is a result of the latter. The logic is compelling: compulsory state schooling is good! Only bad, evil, stupid people disagree. We will destroy their schools and plans for their own good! (And destroy them, themselves, if they make a fuss.)
My only hope, and it's not one I'm proud of, is that the left's program of eating each other progresses fast and far enough to cause a collapse before they set match to kindling.
The point of all the above: the enemy does not have a plan. Or rather, watching the world burn IS the plan. I was continually amazed at the resistance and petulant anger with which met any questioning along the lines of 'how is that supposed to work, exactly?' until I realized, as expressed here, that this lack of interest in real-world outcomes is a feature, really the key feature, and not a bug. Gramsci points out that you have to destroy the 'hegemony' – essentially, what normal people love about the world, but framed as, somehow, the mechanisms of oppression (2) – in order to bring about the glorious people's revolution. Their enemy is nothing other than happiness. Their enemy is Truth.