A. Ran into some very interesting stuff around the whole excommunicate Catholics who refused to send their kids to Catholic schools even when such were available and affordable. Walch tells the story differently than I'd read it before (where, I can't remember and didn't take notes! Never again will I not take notes! No, really, this time – for sure! It's got to be in either the books on the shelf in front of me or in one of the myriad of links I've collected…)
Walch ascribes the incident to the machinations of one layman, a James McMaster, a convert who, with typical convert zeal, thought Catholics should send their kids to parish schools no matter what, to keep them out of the evil clutches of the state schools. On his own, he sent damning articles showing the evil of public schools to Rome, along with a memorandum asking if Catholics could justifiably send their kids to such schools.
This got the attention of people in Rome, who responded by sending a questionnaire to the American bishops. They responded and, at least according to Walch, were a bit put out. The pope got involved, and issued the Instruction of 1875, which favored McMaster's take, but left things vague enough to provide leeway in the bishop's actions. The bishops chose to ignore the instructions.
Walch's sympathies are clearly with Progress, and he repeatedly states in this section of the book how Catholics thought their schools were often inferior to the public schools and parents concerned for their children's futures would choose them for that reason. Besides, many if not most parishes did not have a desk in the parish schools for anything like all the Catholic children in the area. The bishops' disregard for the rulings of Rome is seen as an inevitable and good thing. He quotes, of all people, Orestes Brownson as someone favoring having Catholic students attend public schools.
(Aside: Can't resist talking Brownson! There's a somewhat famous Brownson quotation deriding the very idea that the state should control education – "Where the whole tendency of education is to create obedience, all teachers must be pliant tools of government. Such a system of education is not inconsistent with the theory of Prussian society but the thing is wholly inadmissible here… According to our theory the people are wiser than the government. Here the people do not look to the government for light, for instruction, but the government looks to the people. The people give law to the government….to entrust government with the power of determining education which our children shall receive is entrusting our servant with the power of the master. The fundamental difference between the United States and Prussia has been overlooked by the board of education and its supporters." However, this quotation is from around 1840. By 1865, Brownson was championing the idea that the US would both become Catholic by nature and necessity, and that the rest of the Western Hemisphere would convert (if necessary) and petition to join the Union. If one thinks the nation will become Catholic, then one might stop objecting to state run schools.)
The other view I'd come across was rather that some of what would now be called conservative Catholic bishops wanted the power to withhold the sacraments from anyone who could send their kids to a Catholic school and didn't, and were disappointed with the vague answers the pope gave in the Instruction of 1875, but, obedient as they were, they let it go. By either take, this ended up encouraging people like Shields, Pace and Barns to view the public schools as some sort of ideal that the Catholic schools were to strive to achieve.
Yikes.
B. I have mentioned in passing that Fr. Thomas Shields, a scientific psychologist and pedagogue and, according to the meager sources I've found so far, a somewhat obscure Catholic Progressive educator, and Fr.  James A. Burns, a prolific writer and fundraiser and one time president of Notre Dame, espouse and promote ideas concurrently being condemned by popes, namely, Modernism.
Here's somebody's summary of Pascendi dominici gregis subtitled on the Vatican website  "Encyclical of Pope Pius X on the doctrines of the Modernists." It's well worth reading. This summary seems about right.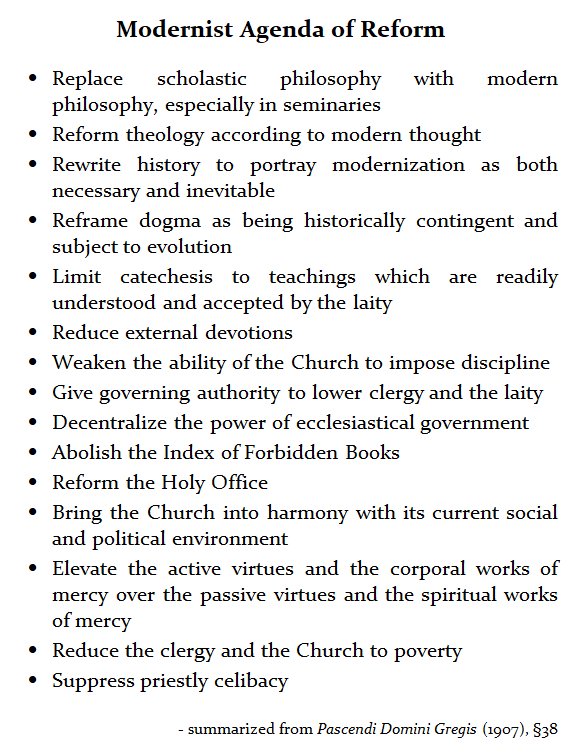 Burns first published in 1908, the year after the encyclical was proclaimed; Shields was active both before and after.  One thing I read and didn't makes notes on (a mistake I'm trying to avoid now!) quoted some late 19th century letters among American Catholic prelates on how backwards and hidebound the European Churches were, and how we Americans had to lead them into the glorious future. That attitude would seem congruent with the writings of Shields and Barns, and would explain their (so far – have lots more to read) silence on the teachings of this and previous encyclicals.
To take it point by point – modernist?:
Classic philosophy does not get discussed as a basis for education; the latest 'advances' are touted – yes;
Not directly, but see catechesis  below – push;
Not directly, but that we are surfing the leading edge of Progress is merely assumed, with regular comments about how we used to do it poorly in the past, but now we're doing it obviously better and scientific mow – qualified yes;
So far, there's both these writers are pretty firm on dogma – no;
They both want to reform catechesis. On one paper I read, Shields is commended for his opposition to the Baltimore Catechism and in trying to implement the 'findings' of 'scientific' psychology to make sure children are not taught stuff too hard for them and are taught in ways that appeal to their feelings. This same author thinks Shields was vindicated in the 1960s when we *finally* ditched the Baltimore Catechism and started doing catechesis right. So that would be a – yes;
Burns, at least, is big on sacramentals and devotions, so – no;
One way to weaken the Church's power to discipline would be to always step a little over the line and dare the proper ecclesiastical authories to react. That's pretty much Shield's M.O., don't know about Burns, so – qualified yes
Both lead by example: Shields ignored the bishops whenever he felt like it, pushed for the professionalization of Catholic school teachers and for them to run the schools as they saw fit – moving authority from bishops to clergy and lay people. Burns is big on the Catholic National Education Association, by which Shields' goals were pursued. This isn't even looking at Notre Dame. This would be a big – yes;
See above;
See above;
N/A
Burns: 

 "In the teaching of the purely secular branches she (the Church) has had no direct interest. She took the curriculum of secular studies such as she found it, and left its development to the operation of the ordinary laws of educational growth. Outside of the matter of religion, there has been no attempt to differentiate Catholic parish schools from other denominational schools or from the public schools." This sounds OK on the surface, but what it means in practice, and what actually happened, was that Catholic schools accepted uncritically whatever methods and content is developed for the public schools provided it can be framed up as 'secular' knowledge. This is not good, when the public schools first goal is to promote control and a harmony, let us say, of ideas – modernist ideas. Think psychology, history and sociology. I'll talk about this further in another post. So – yes. 

This, and the next two points, are quite evident in current 'catholic' schools, but not yet evident in the writings of Shields and Burns – Incomplete
Incomplete
Incomplete
I think it's safe to tentatively conclude, while leaving room for counter evidence, that since the early 20th century at the latest, our Catholic parish schools have been steered toward exactly the modernism that Pope St. Pius X specifically condemned.
I know you're shocked.
C. Then there's this nonsense: Bad science! Bad!.When feminists and other anti-science, anti-reason, anti-reality loonies get to decide what it is permissible to find, Orwell's dystopia is already upon us. What the paper says and how strong its arguments are is irreverent to this point – we won't know, because it's not published! – merely that it can be memory-holed because of bad think.
The time to be nice has long passed. We must make a stink whenever the opportunity arises.