I type invigorated by our weekend trip, partly taken in order to begin the preparation of our house for sale – needed to get out of Dodge so that the termite tenters could rain their chemical Death upon any little creatures that might be eating the place. But mostly, we attended Thomas Aquinas College's 50th Anniversary gala.
Black tie. Every time I saw or heard that, I heard it in the voice from ZZ Topps's "Sharp Dressed Man." Suffice it to say, the Moores are not the kind of people who attend a lot of black tie galas. But we were able to put together a credible showing: I own an ancient tux from my days singing in large choir Christmas concerts (it still fit, 25 years later – I was a shapeless blob even back then!), we found a used tux for cheap for the Caboose, grandma had a very nice dress she's gotten as a gift from one of her sons, and Mrs. Yard Sale of the Mind made an elegant thrift store find.
The Caboose, a fit 17 year old, looks fine in a tux, like it was designed for him. . Me? I can report that, as is befitting a garment designed to be worn to daily dinner, my tux was comfortable. The ladies looked very nice. We didn't stand out – mission accomplished.
Gala was at the Beverly Wilshire. Nice.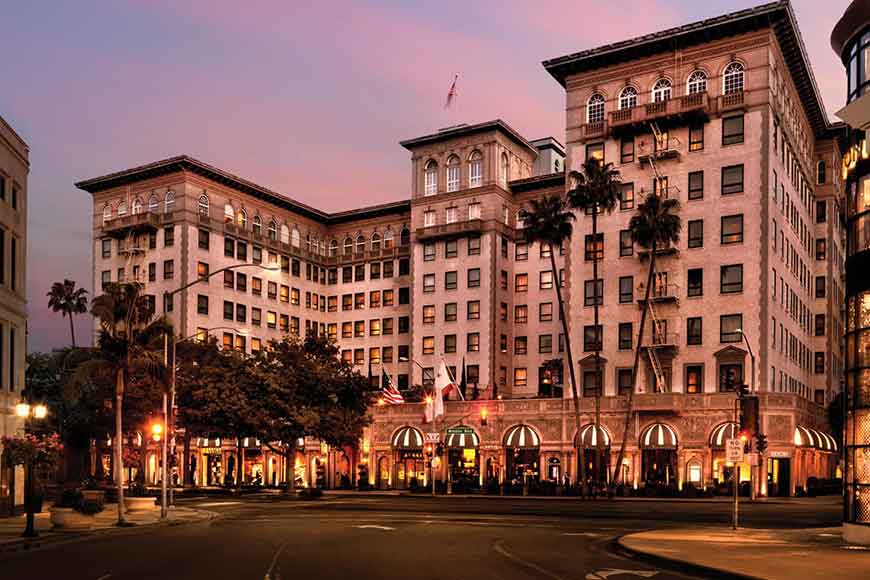 The people of Thomas Aquinas College have reason to be grateful, and are. Two beautiful campuses, solid Board, thousands of alums, full enrollment. But of course, the whole point of this exercise is to send young people out into the world prepared to do good, to do God's will. And in this they also succeed wildly. All the graduates and students I know think first of the Kingdom of God as they make their life choices. Not only is TAC a pipeline to religious life – Mother Teresa's order, embracing poverty in the service of the poor, might top the list – but the many, many students who choose truly Christian marriage in defiance of the world, and even those who choose a virtuous single life focus it on God.
Of course, a side benefit of this: well-educated, moral people make great employees and workers. Many have done quite well, financially – which is largely how the College comes to have all those nice buildings and great board, and gets to throw galas at the Beverly Wilshire.
Supreme Court Justice Alito gave the keynote, and it was wonderful. He is a witty, self-deprecating man. His opening bit was to point out that, while the college had progressed wonderfully in almost every way, it had regressed in its choice of keynote speakers. This is funny, because the speaker at the very first kickoff gala 50 years ago was Fulton Sheen! (And speakers at college events include Mother Teresa and other future saints – so, yeah.) So, he, a Supreme Court Justice is a good as they can do.
Totally fun. Visiting SoCal – Santa Monica, even, and in October! -reminded me why I both miss it and don't miss the Southland. Temps in the 80s, endless blue skies, the awesome Pacific in, well, pacific mode. Yep, this is why 20 million people have moved to SoCal: only about 300 to 350 days like this a year. But then, had drive around some, and – 20 million people live there. We only had to drive much on Sunday, the lightest traffic day of the week, and still had to deal with several slow-downs and stops on the freeways. And then there's the hedonism, which we weren't there long enough to encounter much.
Although we did go, with and on the recommendation of acquaintances, to an establishment called the Elephante Bar, on the third floor with a view of the beach.
As we were getting ready to leave, a clutch of young women entered and sat at a nearby table. Dressed to kill, plenty of skin, done up like opening night. On a Saturday afternoon. Yep, SoCal.
One the house front, I should even now be arranging for painters, plumbers, electricians and so on to do much needed fix-up. I also have to grade papers and tests for the History class I'm giving. And make a fair copy of the Gloria, and then get back to writing. Also also, I need to start applying for teaching positions at some of the many Chesterton Academies that are springing up like mushrooms these days. Seems like the thing to do.
Energy level: high. For an old guy.