How could anyone fall for such obvious nonsense? This question, in various forms, some much less polite, has been nagging at us for decades now. Standard answers to particular incarnations of these questions have been formulated: Marxism is a revenge fantasy for people with daddy issues; years of government training produces mindless sheep by design; participation trophy culture teaches sticking to your group *is* the achievement; theories by which any personal lack of achievement or feelings of inadequacy are conclusively presumed to be somebody else's fault appeal to many, especially grown children of divorce.
This morning, adding another divide: how you think of work. Up until about 1900, half or more of Americans lived on farms or at least in rural communities. On a farm, there is near instant feedback on many of your efforts. Didn't feed the chickens and gather the eggs? The results of that failure will soon come home to roost. Labors and the outcomes of those labors were spread across a range of timeframes: it might take an hour to eat the green beans you just picked; a month to see what you planted growing in the garden; a season to harvest the wheat; a couple years to get to finally plant the bottom land you spend a couple years clearing, and 5 years or more before that vineyard and orchard start producing in volume.
While farming isn't unique in this regard – any real craftsmanship has similar effort and payoff timeframes – it was formative for many millions of Americans for 200+ years. Even if we never set foot on a farm, chances are we lived among relatives who did or used to, so that the farmer's instincts about work were something we all, or almost all, absorbed to some degree at least.
A farmer knows:
Many things figure into the outcome of my efforts. Some I can control, some not.
The number 1 thing I can control is my efforts.
The number 2 thing I can control is my skill level.
Diligent application of effort and skill tremendously improve my chances of a good outcome.
No effort and no skill all but guarantee a bad outcome.
Try as I might, sometimes things don't work out as planned.
Sometimes, you get lucky. Don't count on it.
We've replaced the near-universal experience of farm life with the near-universal experience of compulsory graded classroom schooling. Farmers saw, moment by moment, year by year, the direct relationship between their effort and skill and the quality of their lives. Sure, the world was then as it is now, unpredictable – unfair, one might even say – such that the race doesn't always go to the swift, and so on. But the general pattern was unmistakable: the industrious and skillful did better, in the long run, than the lazy and stupid, in what seemed like a pretty direct proportion to how industrious and skillful one was.
Things could and did often go wrong: the rains didn't come, or came too much, or came at the wrong time; the horse pulled up lame; bugs ate the turnips; somebody got sick and died. Even the most industrious and skillful farmer could get wiped out by disasters out of his control. For centuries, in America at least, the most common attitude seems to have been: Stuff happens. Keep your head down, say your prayers, and keep working. Keeping on is what a man or a woman worthy of the name does. (1)
I have mentioned here the big bait and switch of public education. Reaching prominence in the late 19th century and championed by William Torey Harris, and not finally ending until the 1960s under the influence of John Dewey, the sales pitch for compulsory public schools included the claim that kids – the smart ones, anyway – would need a serious education at least through high school. The key feature of this new educational standard was that Mom and Dad and the nice young lady teaching in the local one room schoolhouse would not be able to deliver it. Nope, only highly trained and skilled teachers processed through the Normal Schools could teach all that Greek, Latin, Calculus, and Science little Eta and Ira were going to need to – work in a Ford factory? 16 years after Harris was outlining his ideal curriculum, Woodrow Wilson was telling the New York City School Teachers Association:
We want one class to have a liberal education. We want another class, a very much larger class of necessity, to forgo the privilege of a liberal education and fit themselves to perform specific difficult manual tasks.
So that idea that America needed standardized, highly-trained teachers in order to produce these excellent little Hegelians was ignored by the President of Princeton when talking to these highly trained teachers, in favor of producing plenty of obedient manual workers. Inside, this is how the higher-level drones talk; the rhetoric we little people were until recently subjected to still lightly echoed Harris. Now, of course, it's Dewey (and Frere) all the way.
Harris thought What America Needed was a bunch of well-trained Hegelians to Move Us Forward as the Spirit Unfolded Itself Through History. He was not a very practical man. Dewey, a huge fan of the Russian Revolution and Marx, stood Harris's Hegelianism on its head, and preached a kinder, gentler education jail that would leave students stupid and compliant. (2) That's the model we've been implementing since the 1960s at least.
Initially, public schools that in fact aspired to Harris' ideal level of 1 – 12 education were created; many Catholic parochial schools attempted to follow suit. High schools – a few, at least – were becoming prep schools for admission to Harvard. The small minority of kids who did successfully attend these schools did get an education that makes modern Master's in most fields look like finger painting by comparison.
Farmers were convinced or mollified by the claim that these modern consolidated schools were teaching the sort of things a kid needed to learn for the brave new world they would be facing. Once the Depression and the Dust Bowl and the invention of the school bus wiped out the already-dying one room schools, the one last public competitor to the One Best System For All that Fichte, Pestalozzi, Mann, etc. dreamed of imposing was removed. The pedal was taken off the gas, although the momentum seems have been enough to coast through the next 30 years still maintaining the pretext that schools were intended to make everybody elite. (One of the reasons I love Have Space Suit Will Travel is Heinlein's brutal takedown of Kip's public high school – written in 1958. The mask had already slipped.)
My parents were born in 1917 and 1919; dad grew up on a farm in Oklahoma, mom among Czech farmers in East Texas – although her dad was a sheet metal guy. Both had that 'just do it' attitude about work. Dad, who started his own sheet metal fabrication company at age 45, would remind us kids that 10-12 hours a day in the shop were still far better than farming in Oklahoma. They were a part of that huge wave of country kids who moved to the city. (My parents moved to SoCal – thank you, Lord!). I, sadly, saw but did not experience the farmer's work ethic and feedback loop. By farming standards, I'm incredibly lazy – yet considered some sort of high-energy output machine by some of my friends. Even a little taste, it seems, leaves its mark.
It's no coincidence that the core employees at my dad's shop were escaped hillbillies and immigrants from Mexico. Billy Joe and Delbert and Juan and Jose (who went by John and Little Joe (being the smallest of 3 Joes working there)) shared my dad's Just Do It farm boy approach.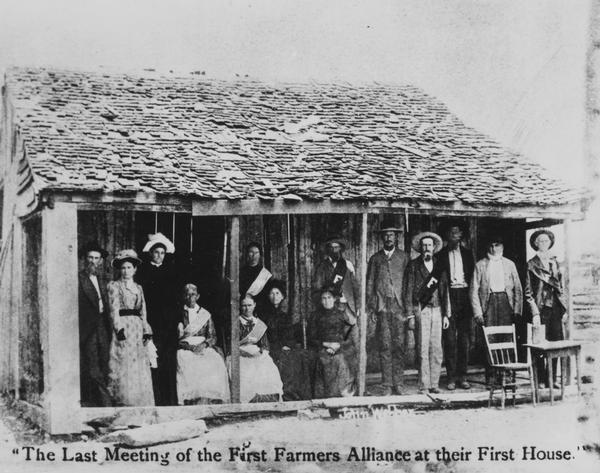 Meanwhile, kids attending school succeeded by doing what they were told and regurgitating on command. When I was a kid in the 60s, it was still possible to achieve some limited objective success around the edges of school – sports did not yet hand out participation trophies, you could objectively win a pinewood derby. But, in general, there were even then no real objective measures of success within school. Indeed, real success was denigrated: we were supposed to learn to read, but, if you did, your reward was to sit in class bored out of your mind while every other kid learned to read. Clearly, 'group cohesion' trumped any actual achievement. Same with math, writing, EVERYTHING: one earned suspicion and soul-destroying boredom by actually promptly learning anything at school.
I have a bunch of hobbies which produce concrete results: I build stuff out of wood and bricks. As I type, I am surrounded by things I have made with my own two hands. Meanwhile, I was possibly the worst student you will ever meet. Wish I could say I was a rebel, but honestly, I was a passive-aggressive coward, constantly testing the limits of how little work one could do in school without getting into serious trouble (ans: very, very little.). Unfortunately, this has lead to my own underappreciation of mental work. Writing is just barely becoming 'work' to me.
But what if that's all you've got? I'm thinking of several acquaintances from college who, in the unlikely event they were ever to do a physical project, would feel like brave adventurers on an anthropological expedition. Let's go experience what it's like for the little people! They saved their papers and projects their school as proud and admirable work products, proof that they are 'accomplished'. Certainly, in the eyes of the school, anything else they accomplish outside school is a hobby, in no way comparable to their 'achievements' in school.
Here's the distinction: I look at the dining room table I'm sitting at as I type, the brick pizza oven I built, the shed, playhouse, bookcases, fences I put up. I take a daily tour of the fruit trees I've planted and the garden I've put in. None of these things are masterpieces, some are borderline junk – but I don't need anyone's approval for their base existence. They speak for themselves; good, bad, or indifferent, I made them. The works of my hands, however humble, have given me more pleasure and satisfaction than any desk job or scholarly achievement. I'm primitive that way.
Meanwhile, how does a good student know they are a good student? In what sense can one be, objectively, a good student, and how does this sense line up with what it means to be a good student in the eyes of the schools? Do their papers and test scores speak for themselves?
When I look at the penultimate former president, the glorious Light Bringer, that toward which our age aspires and from which its self-image flows, I see someone whose measure of success is simply the approval of others, others who can't help but disparage and despise those who disapprove of him. When I think of the people he grew up around, his academic commie mom and her commie parents and the sort of crowd they would hang with, and I can see O getting patted on the head and told what a good, smart boy he is – at the same time he's cycling through fathers and father figures who can hardly be troubled to stay in touch, and a mom who does her thing without any apparent regard for what her own son wants or needs.
Whenever I've been part of a voluntary work party at schools or church, a critical part of how successful they have been at getting any work done is how well organized they are: are there lists of clearly-defined tasks? Some method of assigning them? Somebody who can answer questions? Lacking this management structure, work days in my experience devolve to a bunch of people standing around and a few people working. As a people, it's not just that we don't seem to know what to unless somebody tells us what to do, it's that we don't know, on a pretty deep level, if we've even done something unless we get that pat on the head, that gold start, that participation trophy.
All that said, if we are to accept the results of the votes of people's feet, farming sucks, at least compared to other options. Given the option, the children of farmers have voted overwhelmingly for city life, factory and office work, and an apartment in the city or house in the suburbs.
Haven't read anywhere Dewey formalizing this goal – that perhaps had to wait for Frere, another huge fan of Marx and author of texts used in Ed Schools for 50 years now. Frere says that there is no point to an education that does not radicalize the students. Reading, writing, math are a distraction from the goal of overthrowing the System, man.