A. Is there anyone in America so clueless as to believe mail-in ballots, without any need for positive ID, are anything other than the hugest election fraud in American history (outside Chicago), and that 2016 marks the last free(ish) election in our late Republic?
Don't answer that. Strictly a rhetorical question. Of course there are. Millions and millions of them. Many are terrified enough by the lock down & face diaper fraud to believe anything the nice men and women on TV tell them to believe. Many have their self-images so tied up in their political affiliations that they will, at the same time, 1) believe their party wouldn't do such a thing; AND 2) that they are just stealing the election back from the Russians anyway, not disenfranchising enough people to make Jim Crow look like a friendly mistake.
We have always been at war with Eastasia.
B. Yet, the weirdest thing: when I pray, I don't worry. These days, at least – I spent much of June, July, and August unable to sleep, waking up at 3 or 4, going to bed only to get up in an hour.
Now? Even though every logical part of my mind says we're totally doomed, we'll all be Seattle or Chicago or Baltimore after the next election, and that it would take a revolution we're far too soft to pull off to escape it – I don't worry. Not that I know what will happen, nor do I tempt God by expecting a miracle, but – something. It'll work out, somehow, in some unexpected way, far better than we deserve. I know it's crazy, and I can't explain it, but there it is.
I've even dreamt of it. I had this one dream where something awful happened to Trump, someone had to replace him at the last minute, and yet, somehow, that person won, and the real battle began – it will start with banning mail-in ballots unless notarized and received before election day, and weapon-purchase-level ID for EVERY VOTER IN EVERY ELECTION. The next day, Trump was diagnosed with the 'Rona – and promptly recovered (LIKE 99.9%+ OF INFECTIONS WHERE THE PERSON ISN'T ALREADY HALF-DEAD. FOR MORE INFORMATION, DIAL 1-800-GET-A-CLU)
A sign? Hell if I know.
This is totally out of character for me. I'm usually Mr. Doom and Gloom. I sound like a balloon-head Pollyanna, and I offer no reasons, but I can't shake the feeling this will work out. God has, at times, come to the help of his people, because He remembers His promise of mercy. It's not like we don't deserve to burn – nuclear war or a century of gulags would not be unjust, given how we have used our freedom and plenty. But I don't think so. Let us pray.
C. Invested $25 in a cassette tape player that coverts recordings to MP3 format; dug up some old tapes. Found one with a set of 6 songs I wrote over 25 years ago, and a recording of a choir performing a piece I wrote almost 40 years ago. Recordings of recordings of recordings, in one of the worst formats for long-term preservation devised by man. Which is to say: ended up with slightly glitchy MP3s that nonetheless capture all the wobble and noise of a 25 year old third or more generation cassette. Barely listenable.
I'd throw some up here, at least the choir piece, but it seems WordPress won't let you upload an MP3 on the free version. Gotta pay the man.
On the one hand, I've used this site for free for a decade now, so I can't say I've not gotten my money's worth. On the other hand, I'm not exactly flush at the moment.
D. Those 6 songs reminded me that, at one point, I actually knew a little MIDI. The songs are entirely virtual instruments run by a computer, with some vocals – me, on all parts – layered over them. Dumped it into one of those old school 4-track recorders (which I still have! Pack rat much?) A buddy of mine did a guitar solo on one song; otherwise, everything one hears is my fault.
I was clearly getting worn out or bored or both by the end, as the vocals and final mixes are pretty poor. Too much bass, everything up front and center, no hierarchy on the part volumes, clearly single takes on the vocals. I did nothing fancy with the MIDI, just the notes, over-quantized, using stock sounds. Didn't even do any panning or reverb.
Yet – I kind of like it. Of course, only listened to them about twice now. A few more listens and I'll hate it. There are a few nice touches in the songs. I'm starting to hate them just thinking about it.
But this has made me want to get a decent keyboard (my 20 yr old Alesis died a decade ago) and do some more MIDI. Things are so much less expensive now days.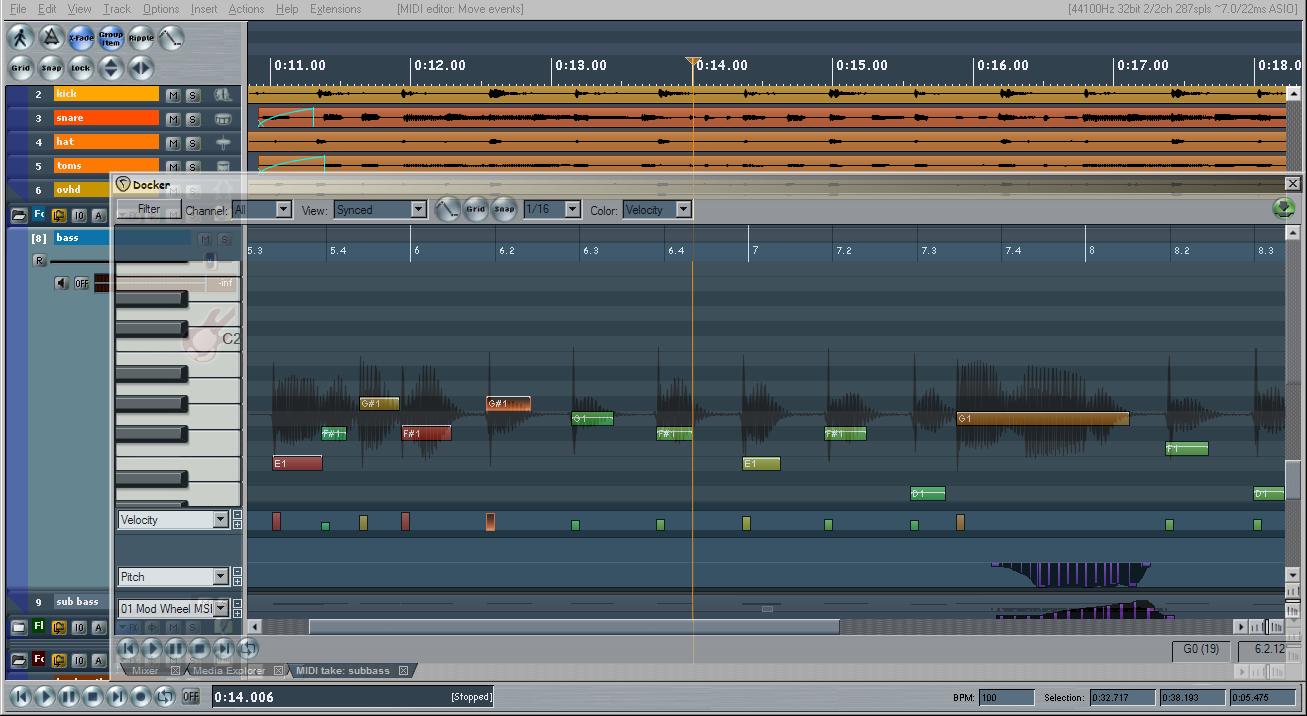 E. Prepping for two middle school history & literature classes is a lot of work. Work I'm avoiding at the moment.