Some minor spoilers ahead.
As part of a 14 year old's birthday party, saw Black Panther last night.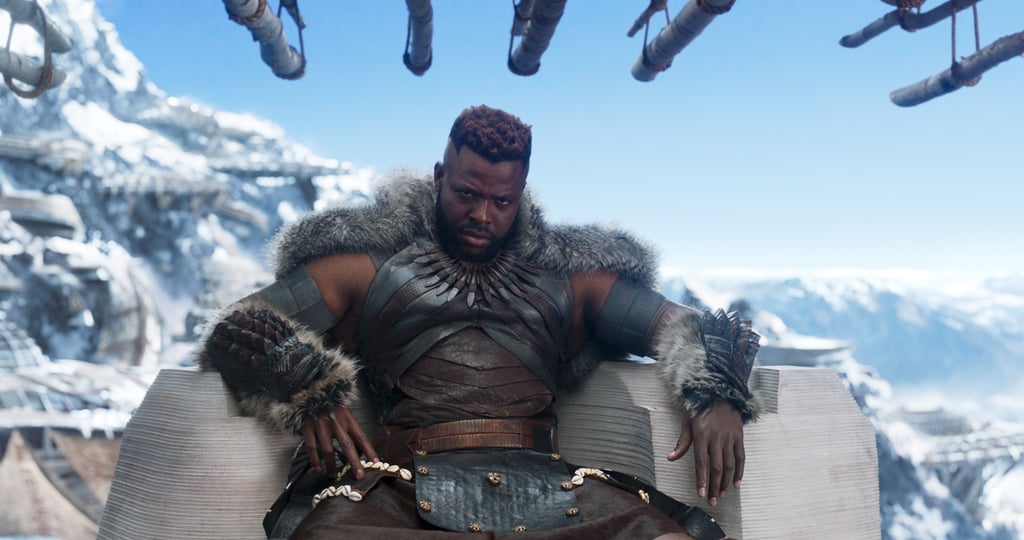 It was pretty OK. Beautiful to look at and very well acted (if you ignore what I suppose is supposed to be everybody's generic 'African' accent). But I got up at one point to use the men's room, and all I seemed to miss was how the Himalayas ended up in central Africa. (Really –  isn't Kilimanjaro the only peak in equatorial Africa that ever gets any snow? Or did I miss a geography lesson? Or are we hiding major mountain ranges now?)
Couple thoughts:
Viewed as mythology,  the Black Panther is fascinating. I'm not much of a comic book or classic pulp guy, most of what I know I got from movies and hearing other people talk about them.  Take that into consideration here.
It seems that the archetype for an American hero is either a vigilante fighting as much against a corrupt system and against bad guys, or a tragic yet honorable character who finds himself the possessor of mystical powers. With of course some overlap. Batman versus Superman, I suppose. Or The Shadow versus Spiderman. Philip Marlowe versus the Cisco Kid? Either way, a lone man, or a lone man with a tiny support team, takes on Evil for the sake of Justice. In Superman's case, that would be defending the innocent. In Batman's, part of the tragedy is his love for a city full of the not-so-innocent. Both are good men, motivated in the end by a desire to do good. They are only accidentally public figures.
The Black Panther isn't one of these. He's a king, and not just a king but an absolute monarch. His kingdom depends on his virtue for its survival – and not just his, but his ancestors back for thousands of years! The only thing holding him in check are tradition, especially ancestor worship, and some sort of mysticism. The only laws shown to constrain him at all were laws of ceremonial combat – which merely determined who got to be absolute monarch.
As if that isn't enough fantasy for one movie, it is also imagined that this little nation that could have easily conquered the world given its massive tech advantage, didn't because something something. Instead, they use all that tech to hide so that, evidently, Wakandans can buy colorful hand-woven baskets from each other in open markets when they're not inventing nanotech.
(Aside: were the war rhinos a nod to Jared Diamond? He speculates in Guns, Germs, and Steel that the Zulus, who for centuries had better steel tech than contemporary Europeans, might have conquered Europe if they'd only had domesticable mounts  – he even used rhinos as his example!)
In real life, African mysticism has never constrained Africans from slaughtering each other, in the same way neither Buddhism nor Christianity have succeeded in stopping Asians and Europeans from slaughtering each other. But we accept it, somehow, like we accept Superman's race being super just and peaceful when they're not blowing up planets (as mentioned above, I'm fuzzy on the details here.) It makes the Black Panther and his people as alien in this respect as the natives of Krypton.
Clearly, Black Panther is meant to some extent as a departure from American superhero stories. I think the better comparison goes back much farther. Camelot leapt to mind as a better match. Not perfect, by any stretch, but better.
Arthur is a king like no other. He seeks first Justice, and the reform and improvement of those around him. His mythical kingdom is an island of high ideals in a sea of brutality and bloodshed. Fabulous and magical weapons are everywhere. The land he trod is in some sense hidden and impossible to exactly locate.  His downfall and the downfall of his kingdom is due to his personal weaknesses as embodied by Mordred.
And that's about it. With the Gawain from the Orkneys and Palamedes the Saracen, Arthur's court was symbolically drawn from the ends of the earth, not a monoculture hidden in secret. Arthur came from flawed parents and left a destroyed kingdom behind him – no mythology of millennia of practical perfection.
Yet we await the Once and Future King, who will be God's chosen instrument to set things aright. That's the core mythology that Black Panther shares. His inhuman moral strength contrasts with Arthur's clear personal failings. The vague mysticism that somehow guides T'Challa to seek justice and refrain from exercising his absolute monarchy to his personal benefit contrasts greatly with the concrete demands of Arthur's Catholicism which Arthur concretely fails.
Of course, people are mostly talking politics. I have my doubts: an absolute monarchy that bans all refugees and refuses all trade with the outside world? Talk about border control. The happy ending isn't a scene where millions of impoverished Africans cross into Wakanda and are welcomed and taken care of, but rather Wakanda sending way-cool aircraft to Oakland and delegations to the UN. Ummmm – what?
The best part: a black boy is deprived of his father and inheritance and grows up to be a psychopathic mass killer. The man, a king, no less, deprives this child of his father then abandons him to his fate when it was well within his power and was his duty to care for him. This act of betrayal ends up almost costing that man his own son and almost destroys his kingdom. N'Jadaka is pretty much Mordred, in other words. That all this begins in Oakland is almost too broad. The message here would be?
Possibly the weakest part of the movie is N'Jadaka's sort of reconciliation with T'Challa at the end. We are given the 'this is a bad, bad man' scenes that make N'Jadaka not just a bad man, but an insane, evil man – he simply kills his lover in cold blood to get at Klaue  and shows not the slightest remorse over this or any other of his dozens of kills. Yet, he gets almost soft at the end. Next to the fantasy elements of an absolute and absolutely virtuous monarch of an invisible country, this deathbed conversion of sorts is the least realistic thing about the movie. That, and the Himalayas.
Anyway, rough outline of what's going through my mind at the moment. Subject to revision as my loyal readers point out just how crazily I missed EVERYTHING about this flick. 😉