(WordPress has decided I published this when I began writing it, which put it out of sequence, so I'm pinning it for a while.  Ah, the mystery of free blogging services!)
There's much to be loathed and feared and fought against in the modern world, for sure, but the fact remains: in general and on a material level, things have never been better and keep getting better.  That this is treated as a disaster by some we'll get to in a minute.
This overall material improvement, where there are now more people living better lives in safer places – and taking less of a toll per capita, and often even on a gross basis, on their environments – than ever before is the single biggest fact of modern life. It's far from perfect, and it isn't 'fair' by all definitions of fair (and wouldn't it be nice if someone, *anyone* would propose a working definition of fair that is anything other than a stick to beat enemies with?).  But is it better? Oh, yea:
Infant mortality is down from up to 40% 200 years ago to low single digits now almost everywhere.

European Infant Mortality, selected countries, from THE DECLINE OF INFANT MORTALITY IN EUROPE, 1800-1950: FOUR NATIONAL CASE STUDIES p. 60. The y-axis scaling makes the drop look less dramatic than it is – from around 45% to around 6%

Where there is not war nor political unrest, there is not famine – this has changed radically over the last century. 100 years ago, in most of the world, famine could strike any year even where peace prevailed. Now? The world is so awash in food that any mere local problem can be and is readily addressed – if the political situation is stable enough to allow it.
There are fewer wars going on now than at almost any time in history. A lower percentage of people die in war now than ever before.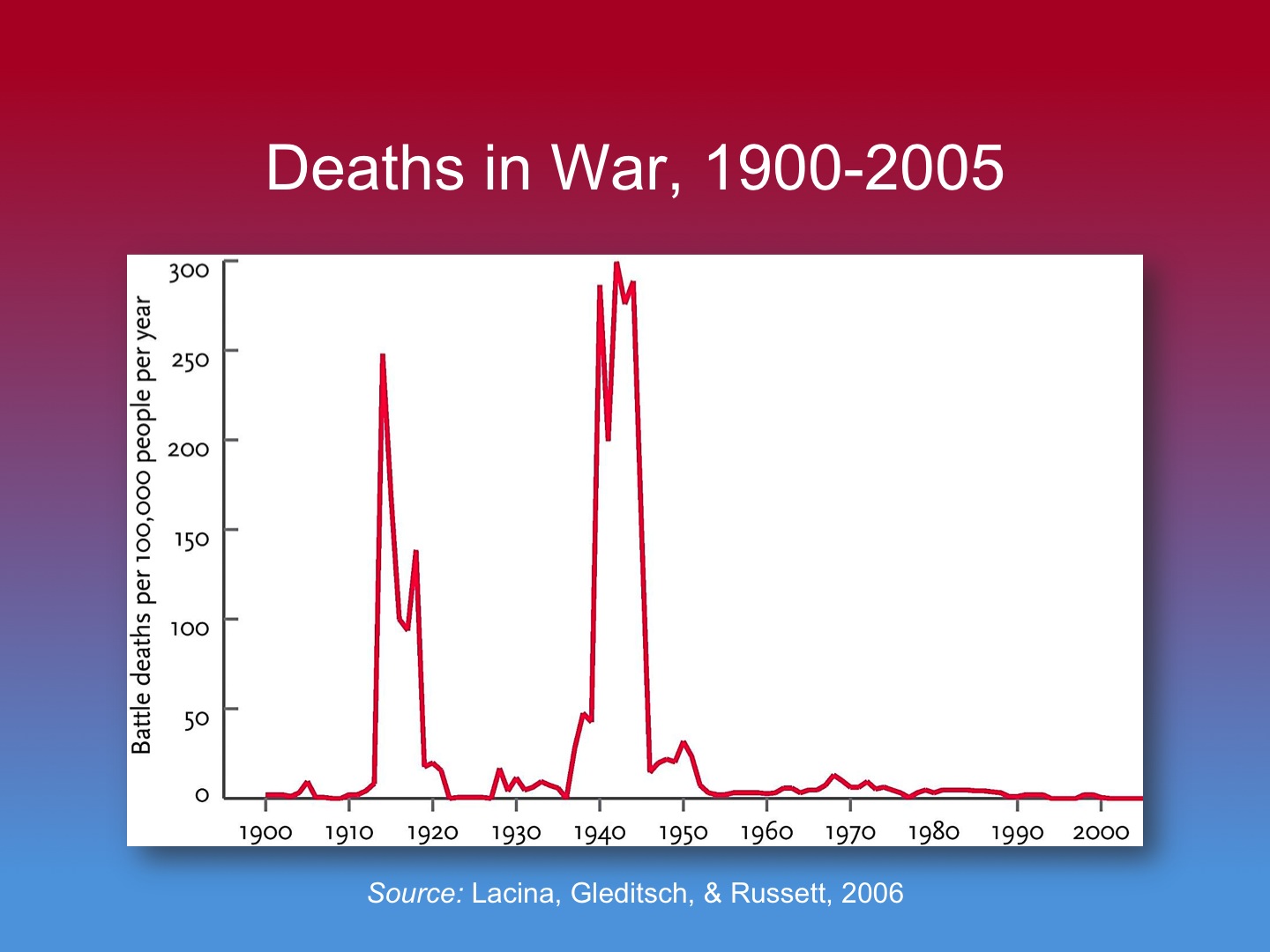 The Amazon rainforest, to pick a poster-child for ecological destruction, is now growing back at about the same rate it is being cut down – no net loss of forest. If current trends continue, we'll soon have increasing rainforests, not decreasing.
At least 20 percent land deforested in the Brazilian Amazon is regrowing forest, reports Brazil's National Institute for Space Research (INPE).

its target of reducing emissions from deforestation 70 percent from a 1996-2005 baseline by 2018.

While the findings are a hopeful sign that the Amazon can recover from deforestation, it will take decades for regrowing forest to store as much carbon and house as much biodiversity as the original forest prior to clearing.
(from: 20% of land deforested in the Brazilian Amazon is regrowing forest  Since over 80% of the forest that was there in 1970 is still there, this would be about 4% growing back – the average losses are in range of 0.1 – 0.2%. There was no indication that these loss numbers were net. BTW: I'm trying to pick as completely non-controversial (to environmental activists) sources as possible here. No endorsement of implicit policies is to be inferred.)
In peaceful, prosperous countries (like ours) there's more reforestation going on than deforestation. Vast tracts of marginal farmland – New England, for example – have returned to forest.
The number of blue whales is increasing, and has been for 30+ years;  there are probably twice as many polar bears now than there were 50 years ago.
Off the top of my head. And so on and so forth. As we work out the implications of well-understood basic tech, like sewage treatment and water purification, power generation, and modern farming, things tend strongly to get better for more and more people. I've often suspected that if the money spent on iffy green projects had instead been spent on providing basic sanitation, power and food to poorer countries, we'd be far safer and better off as a species. People who have food to eat, clean water to drink and a place to charge their mobile phones are much, much less likely to want to go kill other people. Not a perfect correlation, but still.
Can it all come crashing down in a human-caused apocalypse of one kind or another? Sure, that's always on the table, although, as touched lightly upon here and as is evident across popular culture, it seems people are fixated on only a small number of frankly unlikely disaster scenarios while ignoring the very real examples history has given us.
It's never, it seems, an end times scenario based on the French Revolution, where a Reign of Terror is instituted by a group of maniacs calling themselves The Committee for Public Safety. Maniacs who, in the name of Liberty, Equality, Brotherhood and Atheism slaughtered at least several hundred thousand of their unarmed fellow citizens (before they started in killing each other – take note, you who would have violence!). The peace-loving French revolutionaries also started or fanned the flames of numerous wars.
Nor is it based on the real horrors of  the Soviet Union, China, Cuba or, now, Venezuela. Nope,  it's usually a totalitarian theocracy we must worry about – and not the ones History has shown. There's basically no chance of a Christian theocratic dictatorship, if such a thing were to arise, getting anywhere near the levels of terror the French, Russian or Chinese revolutions – at least, not based on reality, on what actually has happened. What has actually happened is that evangelical atheists, such as the French revolutionaries, the Commies,  and the Nazis, have seen it as their sacred duty to improve humanity by slaughtering millions of its members.
If you want religiously-motivated slaughter, Islam is the prime example. When government and religion are one – Sharia law, folks – and the religion promotes conversion-by-conquest – you're going to get government-sponsored religiously motivated slaughter. This is true even where the leaders are not religious fanatics themselves – they, like all historical leaders,  will use whatever stick is handy that they think they can get away with using.  (Islamic conquest of the West began in 634 A.D., and has only taken occasional breaks since. It was not caused by Western Imperialism.)
One might think, if one had perhaps grown up in a world lit by the dolorous rays of a distant red sun, that all this good news would cheer people up. Ha, and again I say, ha! Instead, we can't see anything good that isn't dwarfed by the EEEEVIL lurking everywhere, like we're randy teenagers in the second half of a horror movie. (1)
This inability to see good is a carefully-cultivated sign of refinement. We are carefully trained to accept certain content-free Newspeak phrases, phrases that can be used as both points of dogma and convenient shibboleths. Proper application of such phrases ensures that no improvement can be seen, let alone acknowledged and embraced. Expressing any doubts or reservations about, say, gay rights, microagressions, global warming, the virtues of green energy or that women are underpaid relative to men places one beyond the pale. These and many similar ideas are free of any intelligible content, or so nearly so that whatever the original ideas they were trying to capture have long since receded into the distance, and thus the slogans or catch phrases are empty containers to be filled with emotions and outrage.
The mere idea that anyone would challenge any of these ideas on the basis that they make no sense is an act of intolerable aggression, a rejection of the feelings that make people who they are. The overthrow of thought by feelings – we no longer say we think such and such, but rather that we feel the answer to the math question is 42 – being, of course, one of these ideas. It no longer matters what anyone thinks I am (even who I think I am!) but rather who I feel I am is conclusive. The nonsense that results from this irrationality is yet another thing filtered out from consideration.
Having reality defined by what we feel it is is a very useful state for a certain ambitious type of person. If fear, dread and outrage can be poured into the empty verbal shells, and people lead to feel those emotions are right –  emotions are always right. or at any rate sacred and unchallengable – then large  numbers of people can be lead about, either because they feel the truth of the emotional content, or merely fear being cast out of the cool kids' club. Those, like the utterly loathsome Rahm Emanuel, who won't ever let a crisis go to waste even if they have to make crises up for the purpose of not wasting them, will do their best to make sure we stay properly terrified and desperate.
Gramsci noticed way back that Italian workers and peasants really weren't all that keen on revolting as long as they found comfort in families, church and village. Your typical Italian – your typical human being, frankly – is pretty much OK if he's got family and friends, a roof over his head and enough good food to eat. He will tend to love the Church, which reinforces and supports these things, or at least not want to burn it down.
But a Marxist is sure such a one should be miserable, and is, in fact, miserable but just doesn't know it. The pain and outrage a peasant might experience when, say, Spanish Marxists launch a campaign of assassination against his bishops and priests is like the pain of bright light to those who dwelt in darkness. That peasant would be pleased, heck, he'd join right in, if only he was looking at the world the right way!
Thus, Marxists believe dogmatically that people are miserable, or should be. They will support any position that increases fear and unhappiness. They may themselves believe these positions – that we're destroying the planet, that misery is always the result of oppression, that all institutions that are not actively trying to overthrow the system are tools of control, and so on – but it hardly matters. They, and the many useful idiots and their victims will act as if it's all true because the feelings such panic generates are the right feelings: one should be miserable! You are either an evil oppressor, the victim of oppression, or both – any way you slice it, misery is your just lot! What kind of a jerk could ever be happy is such a world! It's infuriating!
All the good news must either be a lie, or irrelevant, or a tool of oppression. If things are getting better, if more and more people have every material thing they need to be happy, that would destroy everything such people have made themselves believe. The mere possibility of such a disaster must not be allowed to enter one's mind.
There is plenty wrong with the world. By focusing on imaginary threats and ignoring real improvements, we reduce our opportunities to do anything anything about real, concrete problems.
Or so I've heard. Never watched horror movies much – history and the news fulfill my daily required dose of horror.
From Wikipedia: "Gramsci is best known for his theory of cultural hegemony, which describes how the state and ruling capitalist class – the bourgeoisie – use cultural institutions to maintain power in capitalist societies. The bourgeoisie in Gramsci's view develops a hegemonic culture using ideology rather than violence, economic force, or coercion. Hegemonic culture propagates its own values and norms so that they become the "common sense" values of all and thus maintain the status quo. Hegemonic power is therefore used to maintain consent to the capitalist order, rather than coercive power using force to maintain order. This cultural hegemony is produced and reproduced by the dominant class through the institutions that form the superstructure." Translation: Capitalists aren't actually oppressing people, at least not to such a degree that people would much notice. Instead, they inflict evil institutions on them, such as family and church, participation in which often makes the peasants and workers fairly happy and thus less likely to want to throw off their chains. The poor fools think being happy is desirable, and find extended families and the church (which tend strongly to blend into and support each other) conducive. A good forward thinking Marxist (and how good a Marxist can you be if you're not thinking way, way into the misty and fantastic yet somehow certain future?) will thus concern himself with the destruction of family and church and any other social institutions that tend to make people happy, in order to make people miserable enough that even Communism starts to look attractive. You destroy the village in order to save it.