403 A.D., St. Jerome instructing Laeta how she should teach her daughter Paula to read. Over 1500 yrs later I got the exact same education.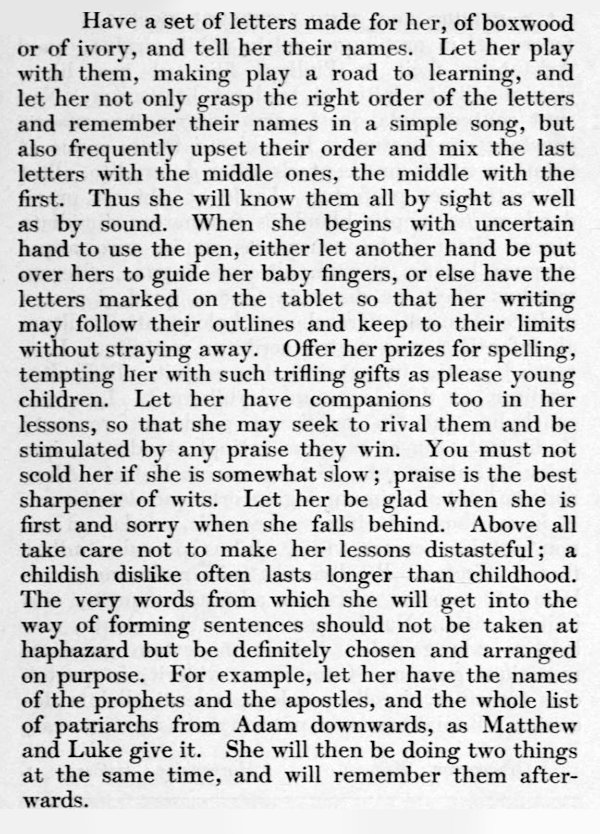 First, this is utterly charming, especially given Jerome's well-earned curmudgeonly reputation. Second, a literate woman teaching her daughter to read is given encouraging advise by a Church Father – those evil misogynistic Catholics at it again! Almost as bad as Francis de Sale's obvious care and affection for "Philothea".
But third, here is clear evidence that people believed that a mom could teach her own young daughter to read.  Everybody in every culture always believed that any responsible adult could teach their own children anything that similarly competent adults knew – reading, say, or basic math. Plato, 2400 years ago: Charging money to teach children what every competent adult knows is fraud.  The amazing thing: over the course of 150 years in the West, the newly developed class known as educators have managed to convince hundreds of millions of adults that they are *incompetent* to teach their own kids much of anything at all.
Recall that Horace Mann's complaint, following Fichte, wasn't that kids were deficient in reading and writing – they were *morally* deficient. No, really.
So, professional educators, from Day 1, with more or less personal awareness on the part of the personnel involved, have been committed to the *moral* education of our kids. Mann found out that this idea was repulsive to the citizens of Massachusetts, who would not vote for compulsory, tax-funded schools – for their kids. Once the Potato Famine sent a million Irish Catholics their way, then the good solid Americans were ready to make *those* people, patently morally inferior to *our* people,  attend moral reeducation camps – schools. In order to sell this, people had to be convinced, or at least cowed into silence on this issue, that parents, grandparents and so on are incompetent to teach their own children. Talk 'performing to grade level', don't talk about educators' more or less conscious contempt for the morality of the peons. See: the current phase of the sexual revolution, or critical theory, or 'truth is relative' or – you get the drift.
What constitutes morality may have changed, but the puritanical zeal of our betters to educate us, the unwashed masses, in it only keeps growing.