Things have come up. You know, things. So not sure how much blogging I'll be doing for the next few weeks. Anyway:
A. Mike Flynn, who I am beginning to suspect hides a curmudgeon behind all that good cheer and erudition, posts about this delightful chart: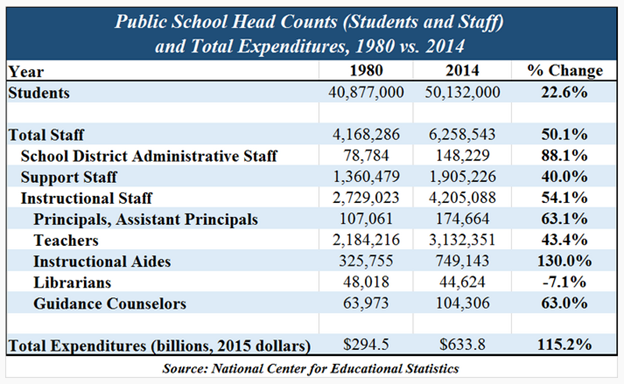 To sum up: adjusted for inflation, school costs have more than doubled in 25 years, despite a mere 22.6% increase in the number of students. Librarians – imagine! – are the only 'instructional staff' to have decreased in number – absolutely, not just in proportion to the increased number of students.
Commenter Sean points out that the biggest part of the increase is in the ancillary staff needed to comply with federal regulations that insist everybody be mainstreamed. Thus, where in the 1960s a school could be run with one teacher per classroom, one principal, a secretary and a janitor – a total of 3 people who didn't teach full time – now the other people involved outnumber the teachers significantly in all schools.
This phenomenon of always growing staff provides a nice segway to a general observation about how you get, hold, and grow power: you need your guys in place everywhere you might be challenged. A clumsy or arrogant man might start by trying to replace those he cannot control with those he can. Somebody with the power to do something is very likely to notice this. (1)
A more sophisticated operator starts by merely making sure his people are there, waiting for attrition to take care of his opponents and making sure his people get the main gatekeeper roles so that he can eventually replace his enemies with his people. This insertion of loyal hacks is easiest to achieve if the pool of potential positions is growing – you don't have to eliminate your enemies, just outflank them. Therefore, would be tyrants are often in favor of anything that requires more staff.
Only once this process is well underway does the would be tyrant risk out and out attacks to remove opposition. This is why education is in a constant state of 'reform', needing ever new programs and staff.
This is the state of education in America today. The 'educators' – a new class that didn't exist until well into the 19th century – started by establishing education departments in the states and education schools in the colleges.  Virgin fields, as it were, with no established power to unseat. At the time – first half of the 1800s – education was delivered by very many largely independent sources, from the one-room schools on the frontiers, to myriad religious and private schools in the cities, to the local parson who educated Jefferson. Learning to read from the King James Bible and how to cipher figuring bushels and pecks with daddy on the farm – these many approaches were how America produced the generations that won the War of Independence and drafted the Constitution.
As Socrates pointed out, charging to teach something any competent adult could do is fraud. Before you can even try that scam, you must somehow convince Grandma she can't teach reading and Dad that he can't teach math. Convincing American adults of their educational incompetence took over 100 years.
Within a generation, these new educators, from their positions as gatekeepers at the state and college level, began to insert their people into the newly-created and ever-expanding education bureaucracies. The cities fell; the rural school boards and one-room schools took longer. Subterfuge and lies have always been the main tool of destruction.
Which leads to:
B. This video is all sorts of chopped up – don't know why – but in the few minutes here, John Taylor Gatto describes the process by which the education establishment mops up the last feeble pockets of educational freedom:
This is essentially how they destroyed the one room schools in the first place. Bait and switch fueled by outright lies. Seems a few remote one room schools still exist, and that the locals love them dearly. They can see with their own eyes that the schools produce better educated, more sane students and, besides, this is New England, land of town hall democracy. So the education department gets the school buildings condemned, and claims it will take as much to bring them up to code as to build a new school to replace them. Trouble is, that new school will be a typical modern school under the complete control of educators.
 A colorful example: in 410, Olympius the master of intrigue had gotten his guys inserted into the leadership of the Legions in Italy. Sarus, the Roman Gothic general, noticed, and, not being too prone to overly subtle moves, gathered a 100 picked men and attacked an encamped Legion on horseback, getting past the defences and fighting his way through thousands of armed and skilled troops until he'd killed Olympius's 20 or so men and those he suspected of supporting them – and got out alive. As a master of palace intrigue, that's the sort of thing you'd want to avoid.